August 10th, 2017
---
11:35 pm - What's playing at the Roxy? The scent of 'Orchids'


Specifically, "No More Orchids," Carole Lombard's second loanout to Columbia. By now she was the rare actress who felt comfortable working with the often boorish, reguarly reviled Harry Cohn. And why not? While Cohn's crass persona was the antithesis of Paramount's patriarch Adolph Zukor, Lombard received better material at Columbia's small lot at Sunset & Gower than she did at her home studio.




We're not claiming "Orchids" is a classic, but it's an effective programmer, a drama that nevertheless provided hints of the comedic Carole that was to come. Now, an artifact from that film and a legendary theater where it played has surfaced on eBay.

The house? New York's Roxy, a mammoth (5,920 seats) moviehouse on West 50th Street between Sixth and Seventh avenues in midtown Manhattan.




"Orchids" was on the bill on Dec. 20, 1932 (a Tuesday), and a program from the theater that day is now available. It's 12 pages in all; here are a few:




Oh, and for proof a Lombard picture was playing...




The program measures 5 1/4" x 8 1/4". It's said to be in "really nice" condition for an item nearly 85 years old.

Bidding begins at $9.97 and closes at 9:17 p.m. (Eastern) next Thursday. If you'd like to add this orchid to your memorabilia garden, place a bid at http://www.ebay.com/itm/Playbill-Roxy-Theatre-1932-NY-Cinderella-No-More-Orchids-Carole-Lombard-/222609315034?hash=item33d48c94da:g:YYwAAOSwaopZjQW6#viTabs_0.

The Roxy closed in the late '50s and was effectively given last rites by Gloria Swanson in a famed Life magazine photo in 1960:


Current Mood:
nostalgic

June 29th, 2016
---
12:19 pm - Some 'Tall!' news (and good news, too)


No, that's not my script Carole Lombard's reading... but with luck, in the not-too-distant future, some actress will. That's because my romantic comedy screenplay "Stand Tall!" has reached finalist status at the Los Angeles CineFest.




What does this mean? According to the director of the event, if someone in the industry asks about the work, "we'll let them know how to contact you directly." Hey, it's a start.




"Stand Tall!" is a charming little story about a casino waitress who needs to "get bigger" (in the bust, that is) so she can moonlight as an exotic dancer to help pay her young nephew's medical expenses. A scientist friend and customer of hers suggests an experimental operation to enlarge her breasts, and she indeed gets bigger -- in an unintended way. The very moment the procedure occurs, a minor earthquake throws the device off kilter, and she's instead tripled in size to 16 feet, 3 3/8 inches tall.

He unsuccessfully tries to undo her growth as she stays in his lab (a converted trucking warehouse), and they also find they're falling in love. The casino's billionaire owner tracks her down, promises to pay the nephew's hospital bills, then signs her to a million-dollar contract to sing and dance at his showroom. She becomes the top attraction in Vegas, a beautiful giant beloved by young and old... but when the scientist is kidnapped by a mobster, will she have to sacrifice the size she's come to like to save the man she's come to love?

You can read the latest version of the script -- it's 105 pages, but a smooth read, I promise -- by visiting https://filmfreeway.com/projects/476988. If you know any producers, please bring them over
Current Mood:
cheerful

July 17th, 2015
---
09:43 pm - Classic Hollywood, viewed through posters


That's a Spanish-language poster for Carole Lombard's Universal film "Love Before Breakfast," which as you can tell is a nearly literal rendering of the one-sheet Universal used in the U.S.:




The Spanish version is among quite a few original movie posters to be auctioned off via Bonham's this Monday, part of an event titled "TCM Presents...Picture Perfect, The Art of Movie Posters." I stumbled across this last night, while heading to a screenwriters' meeting on Sunset Boulevard. (I've recently completed a romantic comedy screenplay -- though it still needs some polishing -- and am about 25 percent done with a second script, also in that genre.) It was being held on the same block as Bonham's auction house, which just so happened was having a public viewing and get-together (among those on hand was TCM's Ben Mankiewicz), and saw the Lombard poster on display. It measures 27" x 41" and has an estimated value of $700-900. Find out more about it at http://www.bonhams.com/auctions/22374/lot/183/.

Several dozen other movie posters comprising the auction also were on display, from silent days...





...to the golden age, featuring Clark Gable and Claudette Colbert...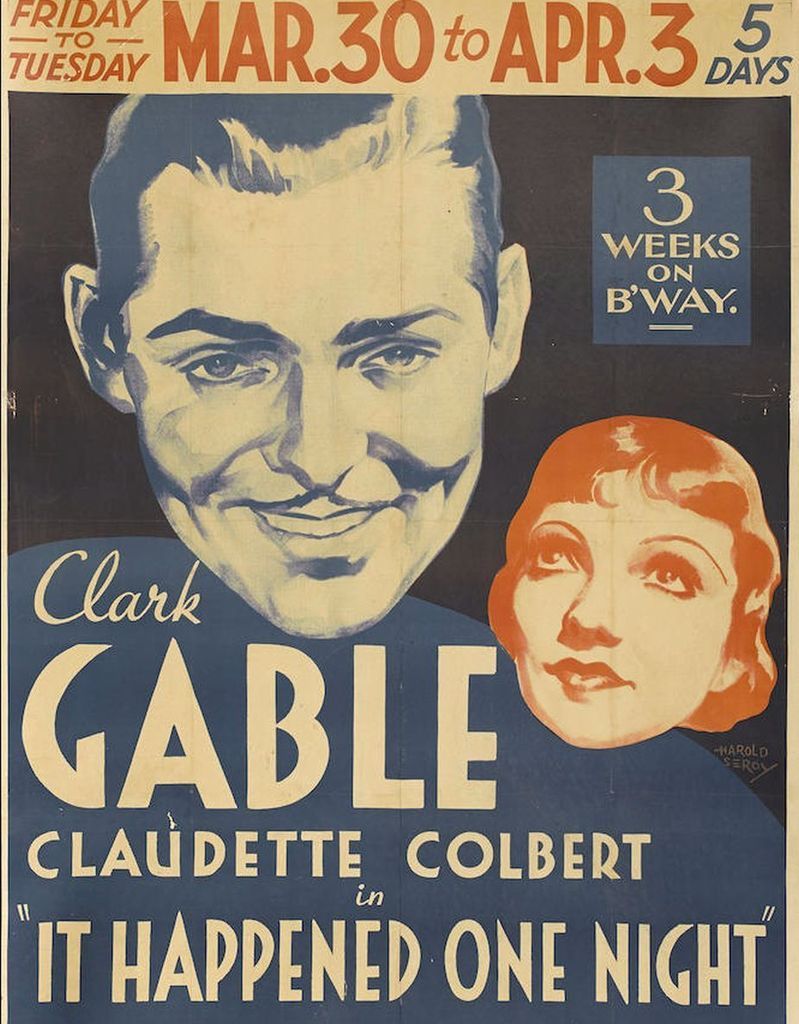 ...to this preliminary painting for "Star Wars"? (It's often forgotten a cast member on that first George Lucas film, Peter Cushing, actually acted with Lombard in 1940's "Vigil in the Night.")




For more about the auction, which begins at 1 p.m. (Eastern) on Monday, go to http://www.bonhams.com/auctions/22374/ or call 323-850-7500.

September 27th, 2012
---
01:41 am - Paramount centennial blogathon: For Carole, seven years, 22 films


Above is Carole Lombard in what Paramount Pictures called a "personality poster" -- measuring 14" x 17", it was something theaters used to promote stars and add ambience to the lobby or foyer. Lombard signed with Paramount in mid-1930, and would remain with the studio through the end of 1937.




Carole entered Paramount a struggling starlet who had recently been dismissed from Pathe, probably for too closely resembling new hire Constance Bennett; she left it a full-fledged star, gaining a palatial dressing room among other benefits, and was one of the movie industry's most popular actresses. And yet, it could be argued that Paramount had very little to do with Lombard's ascension to the top rank.

What are the four films most associated with Carole? "Twentieth Century" (Columbia), "My Man Godfrey" (Universal), "Nothing Sacred" (Selznick International) and "To Be Or Not To Be" (United Artists). None were made at Paramount; she had no equivalent of Marlene Dietrich's "Shanghai Express," Claudette Colbert's "Cleopatra" or Miriam Hopkins' "Trouble In Paradise" at her home base. In many ways, Lombard's Paramount period is a study in frustration, as neither the studio nor, for a time, Carole herself realized what potential resided in this sleek blonde.




As part of the Paramount Centennial Blogathon hosted by The Hollywood Revue (http://hollywoodrevue.wordpress.com), here are my thoughts on some of Lombard's 22 movies made for Paramount. Rather than examine them chronologically, I'll look at them in a variety of categories. Ready? Here goes.




* Best -- "Hands Across The Table" (1935). As stated earlier, none of Carole's Paramount films are considered on the same plateau as her "big four," but this comedy, co-starring Fred MacMurray and directed by Mitchell Leisen, comes pretty close and is generally put on a second tier with "Mr. & Mrs. Smith" and one or two other titles. At first envisioned as a Colbert vehicle (that Lombard was considered for that kind of role showed how her status had risen in Hollywood after "Twentieth Century"), Carole makes it her own with humor, warmth and a sexual tension with MacMurray that was rare for a post-Code comedy. (Indeed, MacMurray would be Lombard's leading man for her next, and final, three films at the studio.) Ernst Lubitsch, briefly Paramount's head of production, exercised care with this project, and it showed.




* Worst -- "No One Man" (1932), with honorable (?) mention to "Rumba" (1935). I've not seen either, but opinions from those I respect place these two at the bottom. "No One Man" was the first film of Carole's at Paramount where she played the lead role, and if some of her other performances of the time are indicative, she likely wasn't ready. And any movie that produces the above publicity still, with Lombard between Ricardo Cortez and Paul Lukas, must be pretty dire (is she auditioning to become an NFL replacement official?).




* Most anomalous -- "Supernatural" (1933). What's a nice girl like Carole doing in hokum like this? Well, at the time, she really hadn't set herself apart from any of Paramount's stable of starlets, so she was assigned to a genre she was obviously uncomfortable with (and one she never wanted to work in again). The funny thing is, her performance isn't half bad; she gives it all she has, even though she ran the risk of being stuck as a horror queen (one fan magazine tried to label her the "Sheba of Shivers"). The film is no classic, but has its moments.




* Most musical -- "Swing High, Swing Low" (1937). This is the closest Carole got to starring in a genuine musical, and the only movie where she actually sings rather than being dubbed. (It's MacMurray -- a real-life jazz saxophonist before moving into acting -- who's dubbed here as a trumpet player.) People liked this movie; it was Paramount's biggest money-maker of 1937, and yet no full-length 35mm print of it survives. Which brings us to our next category...




* Rarest -- "I Take This Woman" (1931). Had a 16mm print of this movie not been given to author Mary Roberts Rinehart, whose novel "Lost Ecstasy" was adapted into this film, this collaboration between Carole and Gary Cooper would be lost to history. It was restored nearly a dozen years ago, and has since been shown a handful of times at repertory houses, but it's not been made available on DVD or telecast on Turner Classic Movies. Given the stars are two Hollywood legends, each with legions of fans, that's bewildering.




* Most clad in lingerie -- "Safety In Numbers" (1930). Looking for work following her Pathe dismissal, Lombard freelanced for a bit, making a movie at Fox before answering the call for a decorative supporting part in this Buddy Rogers romp. Hired for her sex appeal (Carole had, after all, been a Mack Sennett bathing beauty), she added texture to a stereotypical role. Director Victor Schertzinger recommended Paramount sign her to a contract, and it did. "Safety In Numbers" was Lombard's first film at Paramount; her last had a special quality of its own...




* Most divisive -- "True Confession" (1937). Perhaps no film of Lombard's generates more intense debate regarding its quality than this, her swan song at Paramount. There are those who would place it alongside "Hands Across The Table" and "Mr. & Mrs. Smith" in her second tier; others, most notably Leonard Maltin, don't think much of it at all. Despite MacMurray's presence, it's a film that more celebrates zaniness than romance, and for some, it's simply too screwy. But any movie that features John Barrymore (hired, and billed third, at Carole's behest), not to mention the always-reliable Una Merkel in her trademark role of heroine's best friend, has something going to it.




* Least "Hollywood" -- "Fast And Loose" (1930). While the story certainly holds true to Hollywood tradition, where it was filmed wasn't. This would be Lombard's only film at Paramount's Astoria studios in Queens, N.Y., a facility Paramount would shut down the following year, for economic and other reasons. (Most of the Broadway actors who sought film careers had moved west.)




* Most over-the-top -- "White Woman" (1933). Susan Sontag was born in January 1933, but here was a movie that defined "camp" some three decades before she popularized the term. It's steamy but hardly sensual, as Charles Laughton chews the scenery like a dog with a bone toy and Lombard senses the entire story is absurd but can do little to stop it from being that way. Her next film, also in the waning months of pre-Code, took advantage of its relaxed approach...




* Sexiest -- "Bolero" (1934). This film could also qualify as "most anachronistic," as it takes place several years before Maurice Ravel penned the classical composition in 1928. But Carole's scene, where she strips down to lingerie and stockings to show off her dancing ability (and perhaps other skills as well) to dancer George Raft, lets us see Lombard in a light that audiences would be denied as of mid-1934. A few years ago, one writer said of this scene that any man who saw it must have been convinced that Carole was one of the best lays in the world (it is believed Raft learned this firsthand). See it and judge for yourself.




* Most confusing -- "The Princess Comes Across" (1936). For the second Lombard-MacMurray collaboration, Paramount officials apparently couldn't decide whether this was to be a straight romantic comedy or a murder-mystery. The final result is a little of each, and not entirely satisfying. It's hardly a bad movie, but it had the potential to be so much more. Perhaps this movie is also a microcosm of Carole's seven years at Paramount.
Current Mood:
frustrated

April 23rd, 2012
---
01:47 am - Looking back: April 1933


Compared to the tumult Carole Lombard experienced in March 1933 -- an earthquake, a (briefly) lost ring and more -- April was a placid month for her. Privately, there may have been troubles in her marriage to William Powell, but both managed to put up a good front about it.

There was no mention of any marital troubles in Hearst columnist Louella Parsons' report on Powell's contract talks with Warners (this ran in Hearst's San Antonio Light April 8), just a note that Bill and Carole would have to postpone a trip to Europe that ultimately never took place:




In the Hollywood Reporter that day (a Saturday), it was noted that Mr. and Mrs. Powell were hosting a party at the Little Club of the Ambassador Hotel that evening:




It was one of the couple's favorite haunts, as they're shown with an unidentified woman (I do not know whether this was taken at the April 1933 event):




How'd it turn out? Apparently very well, if Harrison Carroll's syndicated column that ran in the April 17 San Mateo Times was accurate:




Carole -- whose dancing prowess dated back to her days at another Ambassador venue, the Cocoanut Grove -- got to show off her skills in the Ironwood (Mich.) Daily Globe on April 12, as she helped demonstrate "the Hollywood Tango" with its creator, Gene La Verne:




On April 5, Film Daily reported La Verne called Lombard one of the three best dancers in Hollywood:




We recognize one of the other two, of course, but who was Marion Shockley? Like Jean Harlow, she hailed from Kansas City, was born in 1911 and was petite (5'1"); unlike Harlow or Lombard, she was a WAMPAS Baby Star (for 1933). However, she worked almost exclusively in short films and left the business to marry Bud Collyer (radio voice of "Superman" and later host of "To Tell The Truth"). They had three children, and she died at age 70 in 1981.

The trades reported that Lombard and Cary Grant were to play the leads in the Paramount property "Gambling Ship." A blurb ran in the New York-based Film Daily April 13:




But the day before, the West Coast-based Hollywood Reporter ran that Lombard would not participate at all:




Carole's replacement, Frances Dee, would herself ultimately be replaced by Benita Hume. "Gambling Ship," among the lesser-known films in Cary's canon, was released in late June.

Several other possible projects for Carole evaporated in April. Two were reported on the same day, April 17, by the Hollywood Reporter:




I have never heard of either "Half Married" or "The Trumpet Blows," but Lombard would both team with Raft and be loaned out to MGM the following year. Harrison Carroll reported Carole would be making a film with Gary Cooper in the April 22 San Mateo Times:




As for "One Sunday Afternoon." Gary made it, Carole didn't. Fay Wray -- probably pleased to once again be working with a tall leading man of the same species -- took the female lead.

Louella resurfaced with some Lombard news in the April 28 San Antonio Light:




Here's where things get confusing (or maybe it's just another editorial goof on Parsons' part). Paramount indeed made a film called "All Of Me" in 1934, and George Raft was indeed in the cast, but it was a drama starring Fredric March and Miriam Hopkins, not a Broadway backstager with music. (And, needless to say, this has nothing to do with the 1984 body-switch comedy "All Of Me" with Steve Martin and Lily Tomlin.)

Now for something even more bizarre. Check out this April 7 ad from the Alton Democrat in northwest Iowa:




Lombard never made a film called "Billion Dollar Scandal," you say, and you'd be right. But this wasn't a one-shot, because exactly one week later, something similar ran in the Bedford (Pa.) Gazette:




Constance Cummings was the female lead opposite Robert Armstrong, not Lombard.

Speaking of Armstrong, the runaway success of "King Kong" may have led RKO to dust off a few of his earlier Pathe films in order to cash in (wonder if studios did the same thing with Fay Wray product?). That's the only explanation I can see for the Lombard film "The Racketeer" running on the bottom half of a double feature in Massachusetts, advertised in the April 17 Fitchburg Sentinel, nearly four years after its release:




Finally, this note from Bob Thomas' syndicated column from the April 10 Edwardsville Intelligencer in southern Illinois, about Lombard's pride in her athletic prowess:




Speaking of athletics, in this week's LiveJournal header, Carole gets to scamper in her scanties -- wearing heels to boot -- in this racy (pardon the pun) scene from 1932's "No Man Of Her Own."
Current Mood:
weird

May 31st, 2011
---
10:09 am - Writer's Block: Taking it on the road


What was the longest road trip you ever went on? How did you pass the time?



I traveled cross country by train (Amtrak) in September 1996, taking the Lake Shore Limited from New York to Chicago, then the now-defunct Desert Wind from Chicago to Barstow, Calif. There I stayed with relatives for a few days before taking another train to Los Angeles. To pass the time, I did a lot of reading and listening to the radio, not to mention enjoying the scenery.

Every American should travel cross country at ground level at least once during their lifetime, if only to appreciate the vastness of U.S. terrain and understand how the nation grew over the decades.
Current Mood:
nostalgic

February 24th, 2011
---
10:46 am - Writer's Block: Love is a battlefield


Which five songs would you absolutely play at your friend's wedding reception, and why?

"Let It Be Me," the Everly Brothers
"Never My Love," the Association
"I've Just Seen A Face," the Beatles
"More Love," Smokey Robinson & the Miracles
"Dedicated To The One I Love," Mamas & Papas (though the Shirelles or "5" Royales versions would be fine, too)

February 8th, 2011
---
11:31 am - Writer's Block: The winning ticket


What would be your first purchase if you won the lottery?

A rail or plane ticket to Los Angeles, where I would retire for the rest of my days.

February 6th, 2011
---
11:06 am - Writer's Block: Super Bowl XLV


Are you watching the Super Bowl this year? If not, how will you enjoy the day? If you are watching, how will you be celebrating the game?

I'll follow the Super Bowl as I always do...by listening to it on radio -- the last great act of cultural defiance. No ridiculous, overblown commercials...no incessant, irrelevant shots of quarterbacks when they're not even involved in the play (why then, doesn't the NFL simply rename itself the National Quarterback League, dismiss all the other players, and have a glorified punt, pass and kick competition?)...in short, football without bull. Unfortunately, we have devolved into a society that worships bull -- hey, it's easier than thinking. (And it takes a lot of courage to stand up to the pressure of contributing to worthless water-cooler chit-chat the following day.) You can have the Super Bowl; I'll take the World Series every time. (Go Nats!)
Current Mood:
quixotic